Brunch: Bring It (Literally!)
By Su-Jit Lin
Small, simple pleasures have never been so poignant as they are today as the COVID-19 crisis spreads across the island. Brunch is one of them.
Traditional Sunday brunch has always been one of Long Island's most beloved traditions, whether that means waking up (late!) to warm bagels and the smell of bacon in your kitchen or a gargantuan smorgasbord with a resplendent seafood tower in an elegant dining room. It's one that's gained even more traction since innovative newcomers burst on the scene with whimsical concepts, over-the-top twists, and camera-ready cuisine. Creative cocktails designed to pair perfectly with brunch dishes have emerged to topple Bloody Mary from her throne, and bottomless options have turned happy hour on its head.
It already seems like forever ago that we could while away days over Mimosas, laughing with friends for hours with a hot cup of never-ending coffee in our hands as syrup dripped slowly over the edge of a stack of challah French toast stuffed with all manner of indulgences. That a leisurely meal after a lovely lie-in provided the revitalization you needed to tackle another week at work, or something to look forward to through it.
But we can do more than pine for the things we miss as we wait for this dark cloud to pass. We can refuse to let COVID-19 take yet another of life's pleasures from us while also helping the places we love weather the storm. We can do our parts to inject a little sunshine into every weekend by taking our brunch to go, having it delivered curbside or right to our doorsteps, supporting these businesses that mean so much to us while giving ourselves something to look forward to.
With delivery and pick-up options, family meal packages, and more, many restaurants on Long Island are rallying for their customers to provide a sense of normalcy–something nice to steel you for the next week or take the edge off the last one.
So towering stacks of dinner plate-sized pancakes? Send them. Outrageous omelets made just for you? Order it! Crumb cake with your tea, Benedicts inspired by every corner of the world, bagels dripping with cheese over bacon and eggs (and SPK, please!), special signature drinks to start your day with a different type of buzz than coffee?
BRING IT.
Because that's literally what these restaurants will do.
Suffolk
Soul Brew, St. James: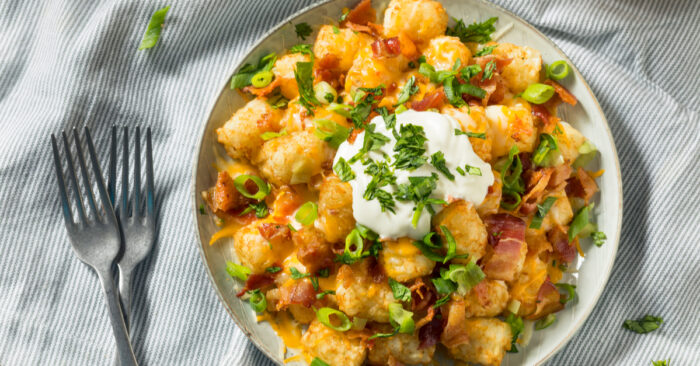 Brunch with character, brunch with soul. Loaded tots, housemade novelty scones in fantasy flavors, fluffy frittatas laden with fillings, and oversized waffles with outrageous toppings (think cookies and cream with salted caramel and bananas) satisfy that Instagram itch, while new specials every few days keeps that feed fresh. For families who want to keep things classic, a breakfast for four package ($39.95) is available, with four oversized pancakes in any flavor, eggs, bacon, home fries and toast. Don't forget to buy a bag of their brew, too, to bring that cafe feeling home.
Peter's Kitchen, Ronkonkoma: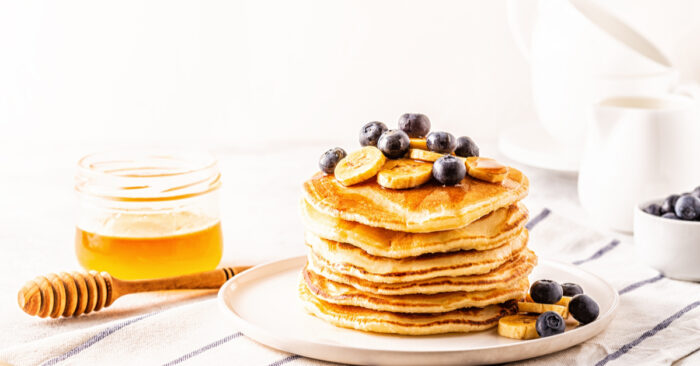 They may be open for every meal of the day, but they shine in the early hours. Right now, they're offering Sunday breakfast or lunch to go from 10 AM to 1 PM, which means breakfast sliders, blueberry banana pancakes, loaded skillet eggs, and even mimosas, depending on their rotating specials.
Babalu, Huntington: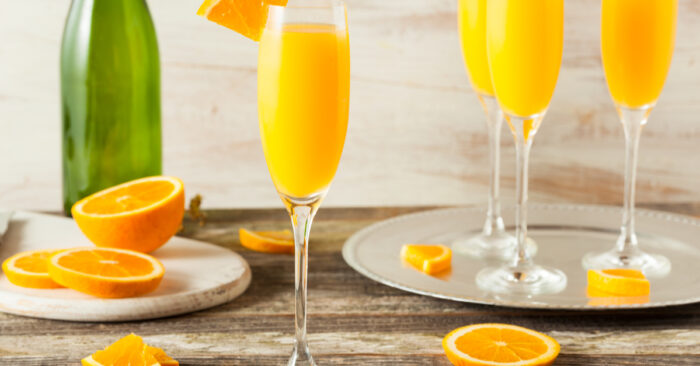 Give your weekend meal a Cuban flair with items like huevo rancheros with ropa vieja, fried eggs over moros rice with sliced avocados, and omelets with sweet plantains, mushrooms, and roasted peppers–all with a complimentary mini bottle of Prosecco while supplies last, every Saturday and Sunday from noon to 3 PM.
Hatch, Huntington: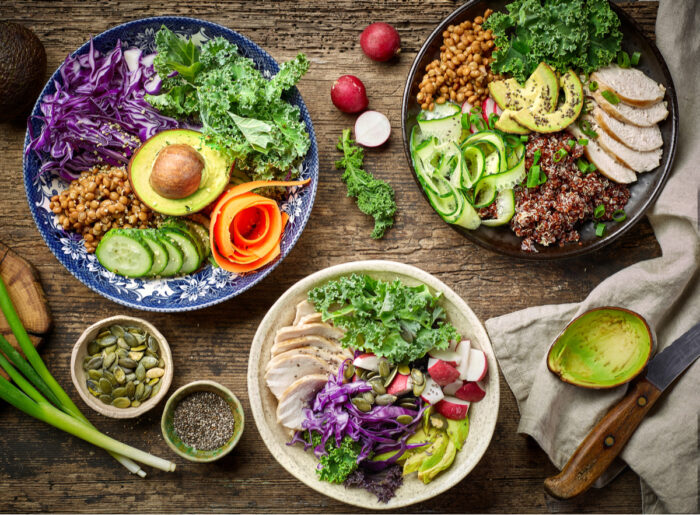 This happy team isn't one to "crack" under pressure, and they're proving it as they crank out their signature pancake flights, gorgeously elevated Benedicts, Hashtag Tots & Eggs, and healthy options like breakfast power bowls from their "Not So Guilty" options Wednesday through Sunday, starting at 7 until 3. Wash it all down with beer, wine, or a mimosa to get into the "spirit" of the meal!
The Brixton, Babylon: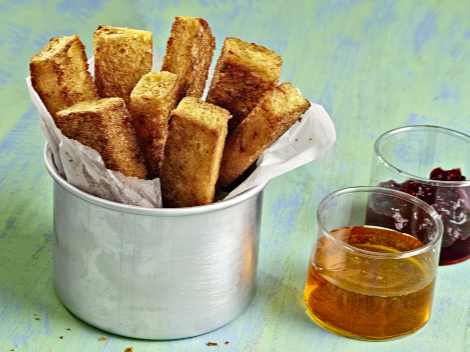 For those late risers, a 2 PM start for brunch is just right at this restaurant! Catch up with a growler of mimosas for just $20, then dive into breakfast tacos, their burger duo with beef and pork, French toast sticks with caramel mascarpone, or eggs in rye toast featuring cheddar-smothered bacon and bacon-onion jam with sweet potato hash. Adult happy meals are another fun option: you get fries, a choice of cocktail, and either a cheeseburger, steamed bao, or fried chicken slider.
Hometown Bakeshop, Centerport & Patchogue: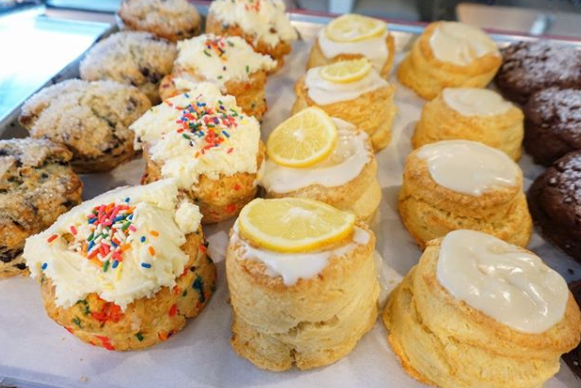 Handheld brunch got a lot more exciting when this shop opened up its doors. Although their gorgeous savory biscuits; enormous scones, including their Instagram-famous Birthday Cake version; savory pies, like the All-American with cheese grits, eggs, chicken and waffles; and assorted quiches have always been available to go, you now needn't step out of your car, or even your home if you opt for curbside or delivery service between 8 AM and 3 PM Tuesday through Saturday or 9 AM to 1 PM Sunday. Call the day before for Patchogue.
Crazy Beans, Stony Brook & Miller Place: From 8 AM to 3 PM daily, you can get your egg on with their all-day brunch menu. They just recently added DoorDash, too, so you can grab "crazy" classics like the pancake quesadilla, the Fully Loaded Homies, or a huge range of egg dishes. Tips are cash-only, so come prepared to take care of your server.
Sweet Mama's, Stony Brook & Northport: This mama keeps things sweet by offering breakfast to go all the livelong day at both locations. Fun griddle selections include Chips Overboard with chocolate and peanut butter chips and the Belgian and Brussels waffles (nope; no greens–it's ice cream!). Big skillets and a Southern Fixin's platter with sawmill gravy and chicken fried steak and eggs might be just the thing if you want to feel fully provisioned.
The Fifth Season, Port Jefferson: Treat yourself right, with a seasonal two-course brunch from their regular menu prix fixe, now only $18.95 (from $24.95). From 11 AM – 6 PM, you get your choice of amazing-sounding apps, including organic field greens, mascarpone-stuffed crepes, chickpea fritters, and more. Entrees include seven options that start with coconut pancakes with white chocolate, mango, and apple-ginger compote; a frittata; penne with lemon and truffle cream sauce; and their Snake River Farms burger. A bonus? Complimentary mini muffins with housemade jam. Don't foget to add on your mimosa kit for $20 or Bloody Mary kits for $30!
Nassau
Thomas's Ham & Eggery, Carle Place: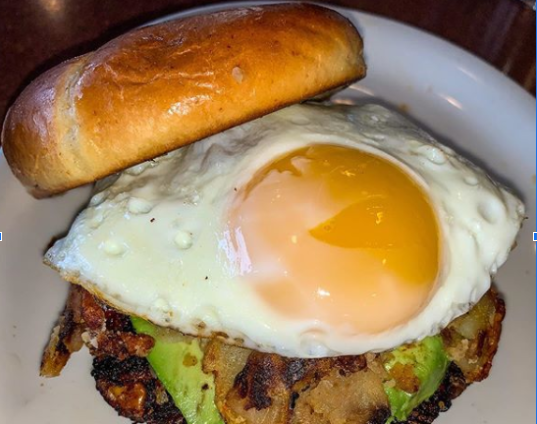 Open daily, this new-age old-school diner makes every day feel like a weekend. They open at 8 and serve until 8, except for Sundays, and have continued coming out with daily specials that make mouths water. New melts are announced regularly on their Instagram, and fun things like pulled pork on huevos rancheros and Thomas's Irish Breakfast remind you why you like to leave brunch to the pros.
Whiskey Down, Farmingdale: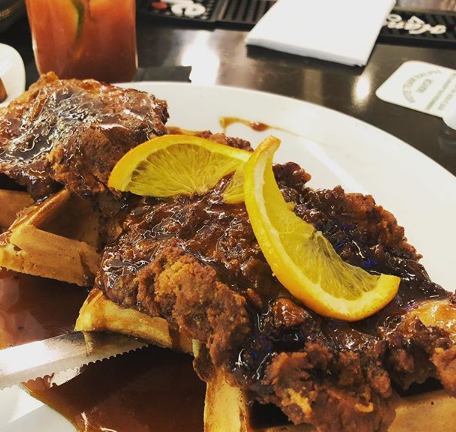 Another reinvented diner concept, this recent addition to the brunch scene has whimsy written all over it! Boozy milkshakes, decadent pancakes, breakfast poutine, and chicken and waffles with sriracha maple syrup. Need a crowd-pleaser? Go for the Family Brunch Box, available 10 AM – 4 PM on Sundays. For $40, you can get eight pancakes, home fries, scrambled eggs, and bacon or sausage; $5 more will add a sparkling rose, Bloody Mary, or mimosa to your morning.
Thyme on Your Side/Le Petit Cafe, Farmingdale: Take your pick of muffins–whose types include brown sugar buttermilk corn or wild blueberry crumb–or see what a bag of assorted minis will yield you. But let that only be the start, because from 9 AM to 3 PM on weekends (6 PM weekdays), they're also serving steel-cut oatmeal with banana, walnut, sunflower, and toasted pumpkin seeds, grilled vegetable frittatas, chicken pot pies, and individual or family-sized portions of banana, pecan, and house-made caramel Belgian waffles or corned beef hash with local organic eggs, served with their own chipotle ketchup.
Left Coast Kitchen, Merrick: From 9:30 AM – 2 PM on Sunday, their wildly creative, Instagram-famous breakfast can come with full bar specials, whether you choose to take it out or get it delivered for $2. Plus, a Return Guest Discount for 10% off each consecutive week you order (up to 30%) sweetens the pot … or plate of pancakes.
The Alpine Restaurant, Franklin Square: Early risers can get a rise out of their Breakfast for Four deal, available for pick-up only from 7 AM to noon. In this $29.95 package, you get eight scrambled eggs, eight strips of bacon, four sausage links, and a whopping full dozen pancakes with syrup and butter. Make it for six for $10 extra, or for bigger families of eight, $20 more. And that's all in addition to their all-day delivered breakfast options, which run from 6 AM to 7 PM.
Pantano's, Plainview: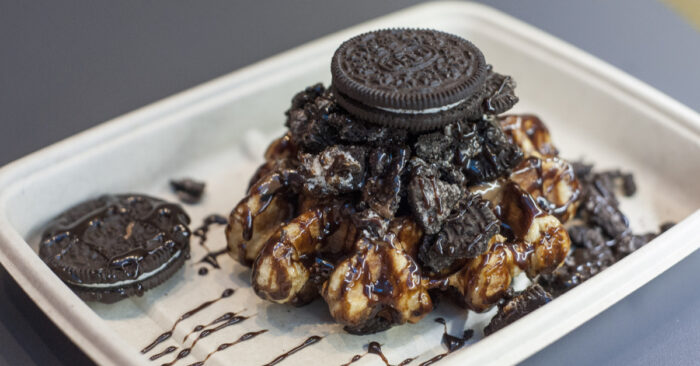 Another Instagram darling, this has-it-all gourmet deli gives you the American freedom to have breakfast all dang day. What sets their brunch menu apart are creations like the Chunky Monkey Waffle with cookie dough and chocolate syrup, Sunrise Quesadilla with steak, and a big variety of add-ins for your French toast, pancakes, or waffles. They're available for curbside pick-up only.
Fresco Creperie & Cafe, Williston Park: Sweet crepes are great, but at this casual and cash-only, you have the option to go savory. Skirt steak with mashed potatoes, spinach, caramelized onions, and Swiss; ground sausage with veggies and salad; and chicken with portabella mushrooms, tomato, and Brie make it a satisfyingly European brunch to go.
Suburban Eats, Farmingdale: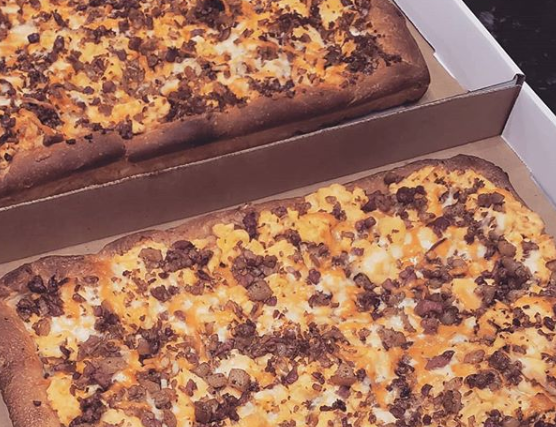 You'd be remiss to skip the biscuits–there's a reason they're this shop's claim to fame! All breakfast items available until 3 PM Friday through Sunday, and are $10 each (some with upcharges available). Choices include a biscuit sampler and sandwiches, housemade granola bowls, a North Fork Oyster Fry with eggs, and cinnamon swirl French toast on housemade brioche; lunch for $14 includes chicken pot pie, fried chicken biscuit, burgers, and more.
New Moon Cafe, East Quogue: They've taken care of their customers for 42 years, and no newfangled disease is going to stop them. $9.99 gets you some classic favorites  like egg platters with bacon or sausage, home fries and toast; pancakes or French toast with bacon or sausage; and two types of omelettes home fries and toast. But that's only the start when a complete brunch menu is available at regular menu prices and they go toward a good cause–they've been delivering hot cooked meals to seniors in need free of charge.
Crazy Beans, Greenport: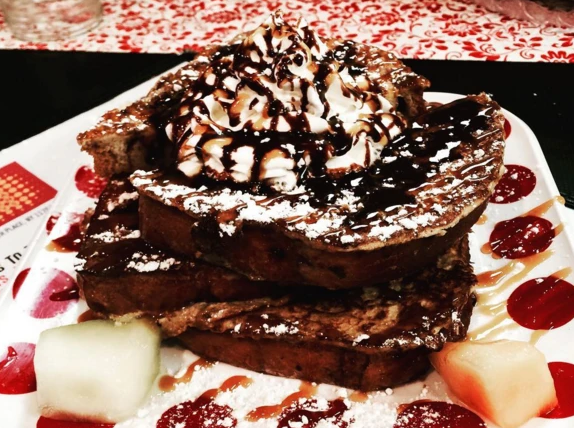 In their craziest move yet, they're still trucking through the pandemic, offering take-out and curbside delivery from 8 AM to 3 PM. They're a bit lunch-ier than brunchy at this location, but hey–toss a fried egg on top of whatever you ordered and voila!

Classic Choices" Local and national chains and bagel shops shouldn't be without mention, either! Here are only a handful offering take-out and delivery worthy of the moniker of plated "brunch." The bagelries listed here are included due to their hot family meal packages, but for something truly traditional, don't forget to check with your local deli or bagel shop to see if they're still open, too!
Brownstones Coffee, West Islip, Amityville, East Northport & Centereach: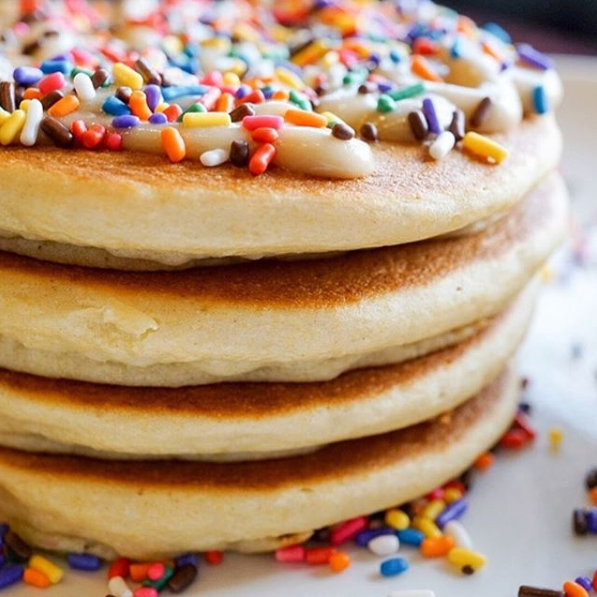 Their banana- and berry-topped French toast bites can now be bitten in your PJs, as can their Benedict scrambles. And for someone having a birthday under quarantine, pick up some birthday pancakes, with sprinkles and cream cheese icing, to remind them it's still a happy day.
IHOP, Islandwide: Guess they were onto something when they announced the IHOP 'N Go service back in 2017! This chain is offering their full menu for take-out, so check your local IHOP to take care of that pancake craving.
Bagel Boss, Islandwide: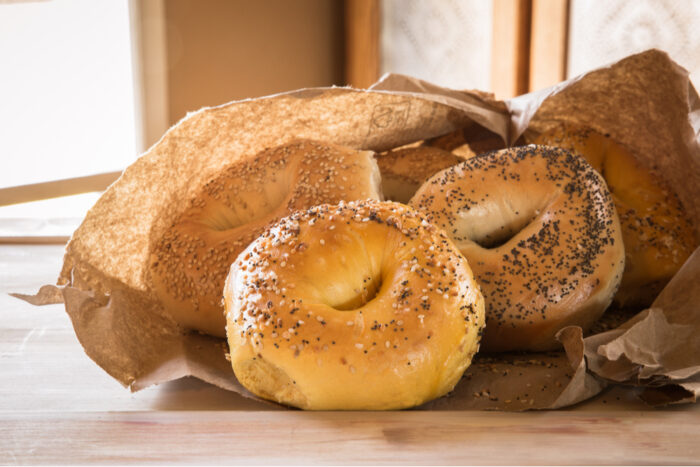 Long Island's premier kosher caterer is still up and at 'em across 14 destinations, all doing delivery and curbside pick-up every day but Saturday, the Jewish Sabbath.
Bagel Express, Setauket & Smithtown: It's hard to beat this deal: $19.95 for four pancakes, four pieces of French toast, 10 scrambled eggs, four hash browns, and a half dozen of their eponymous bagels. Adding six slices of bacon will only set you back $5, and avocado a mere $2.
L&E Bagels, Wantagh: Free delivery from 8 AM to noon for orders over $20 make any day a happy Sunday … especially when you can get four bacon, egg, and cheese sandwiches and half a gallon of orange juice for $25 sent directly to your door. Several promotions add to its appeal: 18 bagels and two eight-ounce portions of whipped cream cheese, plus half a gallon of orange juice or milk is also $25, or you can go for a dozen, cream cheese, and lox for a buck less.
By Su-Jit Lin
Big Apple Eats Blog Grand Openings Hamptons Hangouts North Fork Nosheries Trends