Once Bitten Donuts Hitting It Off Big with Massapequa Park Residents
Located at 1000 Park Boulevard, Once Bitten Donuts is co-owned by Catherine Logozzo of Oceanside and her sister-in-law Claire.
When it comes to a tasty bit of confectionary goodness, few treats stand up to the popularity of the good ol' donut. And an eatery in Massapequa Park, NY – Once Bitten Donuts – has really gotten local residents talking – and eating – since opening their doors for business in October 2020.
Located at 1000 Park Boulevard, Once Bitten Donuts is co-owned by Catherine Logozzo of Oceanside and her sister-in-law Claire, and while both come from families with extensive backgrounds in the restaurant and food industries, neither had direct experience in retail baking up until that point.
The two had previously co-owned a children's party place in Great Neck called Pump It Up, Catherine said, but had since sold it and were looking to move on to other endeavors.
"That's how we came to owning a donut shop…we were taking note of all the different desserts that people were bringing in for parties at Pump It Up, and decided that would be a great way to go," she said. "We were both into the baking and desserts, and we felt that donuts were something that we could make unique and have something different that other places didn't have."
Not having a background specifically in donuts, Catherine said that it took "lots and lots" of practice to get their unique and successful formula right.
"We dove in," she said. "We're self-taught, but again we both come from food backgrounds so it's kind of second nature to us. We just got in there and did our thing, to be honest, and everything just seemed to click."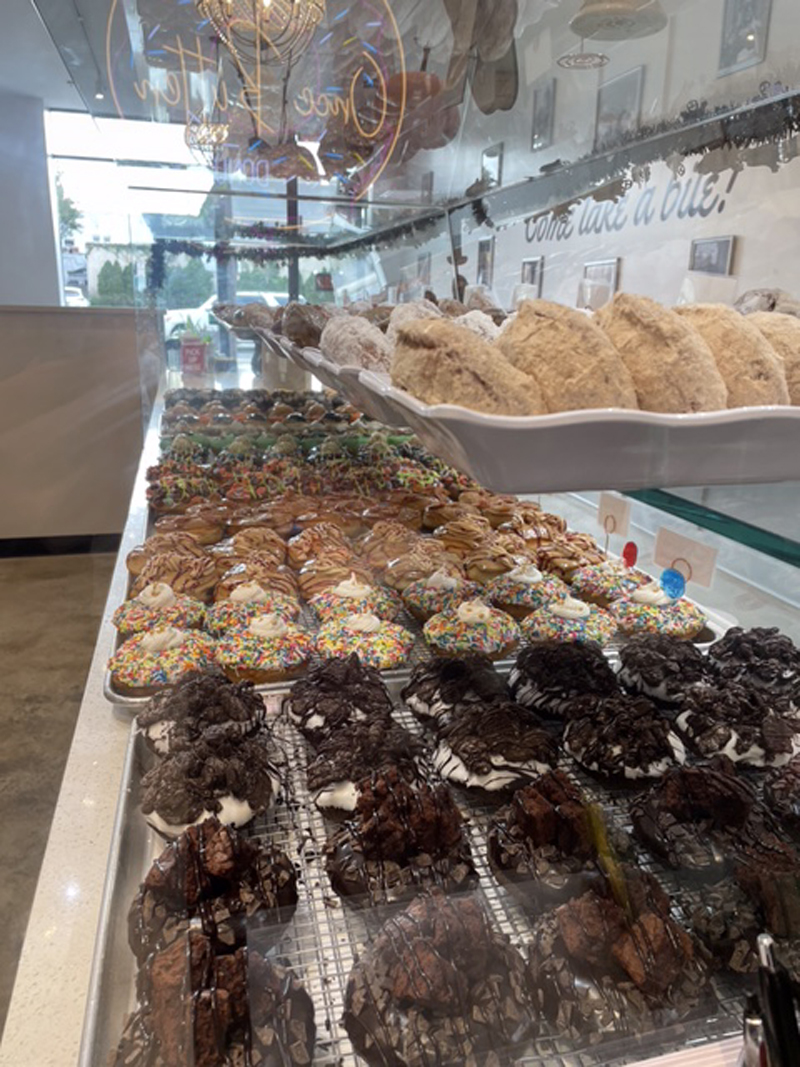 What didn't click, unfortunately, was their timing; Catherine and her sister-in-law first leased the Massapequa Park establishment in January of 2020 with plans to be opened by Mother's Day. However, the COVID-19 pandemic ended up having other ideas.
"We started construction and then sat and looked at an empty store for several months during the lockdown until construction opened up once again," she said. "We really got stuck in the middle of COVID, but thankfully our landlord was very understanding and worked with us. Thank goodness for that."
Once lockdown measures eased, construction was allowed to resume and Once Bitten Donuts finally opened their doors in October 2020; however, Catherine noted that it was nonetheless quite unnerving opening a small, independent business in the middle of a once-in-a-century pandemic.
"In one word, it was scary. We were caught in a spot where we had already gutted our store and had an empty shell, so we didn't really have a choice," she said. "We knew we had to follow through with our process, but there was so much uncertainty surrounding the investment. It was very challenging, challenging to find workers, performing health checks on them every time they came in for a shift…everything seems a little bit easier now, but at the time it was chaotic."
However, when Once Bitten Donuts finally opened, Catherine said that the surrounding community came out in droves to support them.
"This town is so wonderful. Everybody was so welcoming and so supportive," she said. "We were shocked at the response on our opening day, when we literally had a line of people down the block…we sold out our entire stock twice in one day. It was great. But since then, now we're waiting for more of the pandemic-related restrictions to be lifted so more people can go back to work. Since we're located right by the Massapequa Park train station, and so many people are working from home instead of commuting into the city, things were a little slower right now than they normally would be."
What sets the fare at Once Bitten Donuts apart from competition, Catherine said, is hard work, a personal touch, and delicious homemade taste.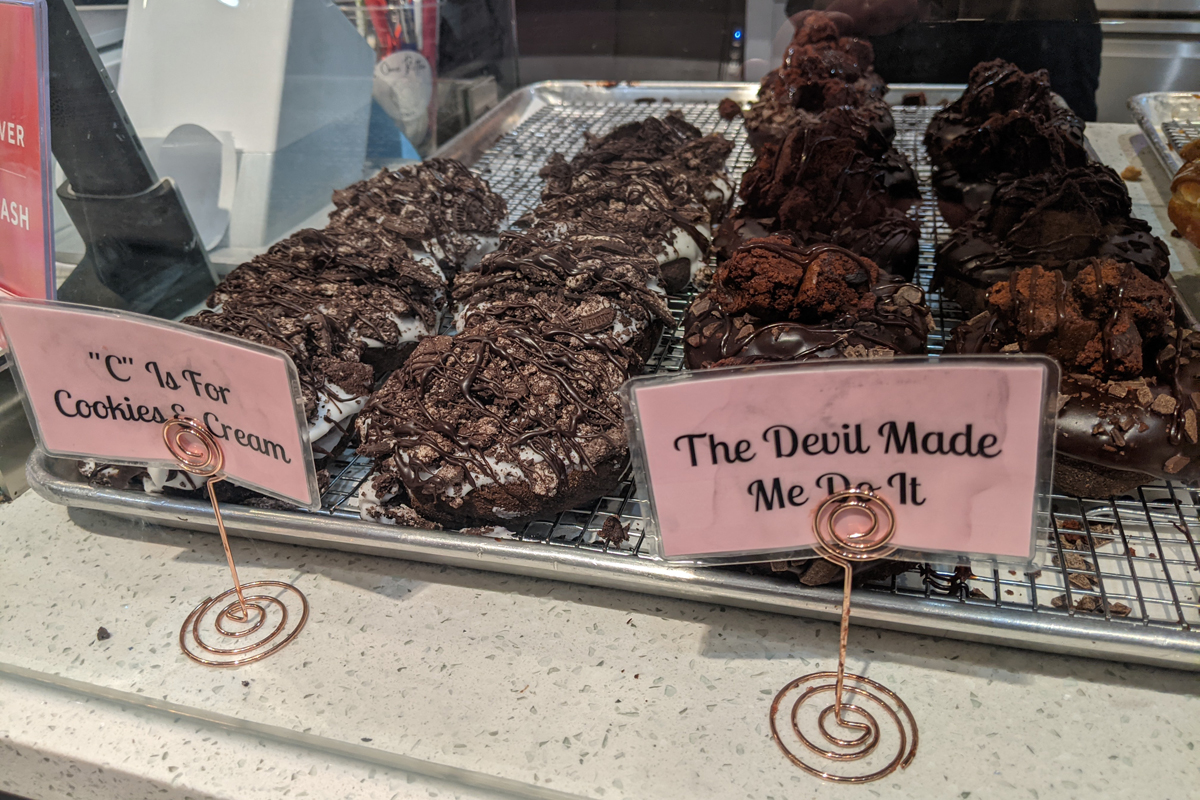 "Our donuts are cooked fresh each and every day, and we offer a variety of both cake and yeast-based donuts, whereas most places only offer one or the other," she said. "And we really try to satisfy everyone's palate. Our number one seller is our Devil Made Me Do It donut, which is a chocolate cake donut with brownies, chocolate, fudge…if you're a chocolate lover, that's the donut for you. Another one of our top-sellers is our Sour Cream Old-Fashioned glazed donut, which happens to be my personal favorite."
"We make donuts with all sorts of crazy toppings, but we make all of the classic favorites as well," Catherine added.
One especially exciting aspect of opening Once Bitten Donuts, Catherine said, is that it's already in the process of expanding, with a second location slated to open in a few months.
"We actually took on some partners and we have a second location opening up in Red Bank, New Jersey," she said. "Right now they're expecting to be opening up in March…everything will be the same donut-wise, but their shop is going to be a little bit bigger and they're also going to have an ice cream shop inside as well."
As far as opening up a second location on Long Island at some point in the future, Catherine noted that it's something that she and her sister-in-law regularly think about.
Once Bitten Donuts is also available for catering jobs, pumping out scrumptious custom donuts for any occasion at all, be it a wedding, birthday party, anniversary, or any other occasion.
"We do all sorts of custom donuts for parties for any occasion," Catherine said. "Birthday parties, bridal showers, gender reveal celebrations, anything at all."
To find out more about Once Bitten Donuts, please call 516-882-0333 or visit their website.